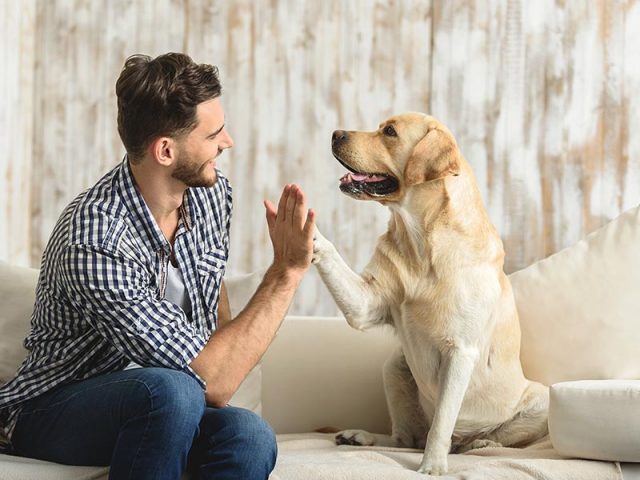 We could all use a little more exercise, and that goes for our dogs, too. The stats on dog health don't look good, with the PSDA releasing a study that show 81% of vets and nurses reporting an increase in the number of overweight or obese animals. If you're concerned that you and your pooch aren't getting the activity you need, what can you do about it besides walking?
Go hiking
What's better than a walk? A walk with some challenge. Getting your dog slowly into hiking can see them taking on more challenging terrain that helps them burn more fat. Also, they're going to love being out in such new and exciting environments, too.
Fetch with a difference
Leaving the home for exercise isn't always the most convenient option, so it's good to have some fun, active play options at home, too. Fetch is an exciting, wonderful, and highly active time for your dog, but you can also make it a much healthier exercise for you by seeing how many crunches, lunges, or squats you can do in the time it takes them to get the ball.
Tug of war
If you mind getting more physical with your dog, then finding a toy built for tug of war is a great to build muscle for more of you. It's a pretty good workout for your upper arms and your core, especially if you have a bigger pup.
Swim fetching
Not all dogs love water, but those that do will gladly play fetch in the pool just as easily as they would on dry land. Try bringing a floating fetch toy and, after you throw it, swim in a race to see how gets it first. Your dog's likely going to beat you, but swimming is fantastic for cardio, building stamina, and improving your metabolism. You can keep your pupper safe with a doggy life jacket, as well.
Doggy yoga
If there's a dog yoga trainer near you, it's well worth checking out. Few exercises build that bond as well. Yoga's one of the best exercises for people of all sizes, ages and fitness levels, and your dog can be trained to carry out their own exercise routines to go alongside your own. If you can't find a trainer, you can try training themselves with a heap of instructional videos available on Youtube.
Make sure their diet is on point, too
Lastly, it's not one of the five exercises, but it's important to take a closer look at what your dog is eating, too. Natural, whole ingredient recipes from brands like Barking Heads can ensure they're meeting their nutritional needs without packing in the filler ingredients that make it harder for them to lose weight. It's worth looking at choosing healthier treats with fewer calories, too.
 Dog owners alone are responsible for the health of their pooch. A more active life for them means a more active life for you, as well. Finding the right activity can even offer a new way to bond, deepening your relationship with your furry friend all the more.