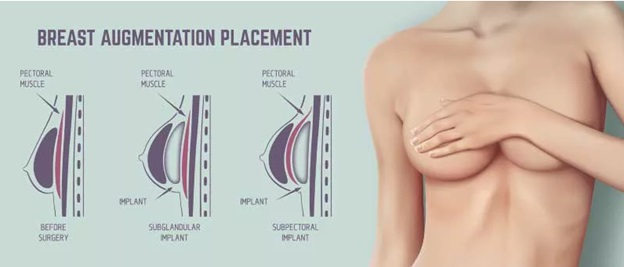 Some people desire to change their body to be lean and fit with diet and exercises. But with some body parts, it's a different story and breasts are one of those parts. Woman's breasts are mainly built from fat tissue and glands, and some women genetically have a little amount of fat tissue. For others, breasts can change due to breastfeeding and aging, where they lose firmness and volume.
If you find yourself in these sentences, and you would wish to have bigger breasts, that is now possible with surgical procedure. This procedure is very popular and besides the size that you will get, you will also have a better breast symmetry.
As we already said, the goal of breast augmentation is to enlarge your breasts and that can be done in different ways. One of the common ways is to transfer fat tissue from different parts of the body to breasts and well-known possibility is surgical placement of implants in the breasts.
How breast augmentation look like
This procedure is considered a routine cosmetic procedure. On average it can last around three hours, depending on the result that you would like to achieve and the technique that will be performed. Both implant and fat transfer procedures are surgical procedures, and they are done under the general anesthetics.
Implants can be placed behind the breast tissue, or behind the breasts muscle. The client can decide the shape of the implant, and usually, implants have rounded or oval shape which you can check at Breast & Body Clinic and decide with your surgeon, which one will be best for you.
Possibilities when it comes to breast implants
Implants are quite soft, flexible and made from silicone or saline. Depending on the size of the implants that you choose, the doctor will decide what type of incision will be made. Recovery does not take long, around a few weeks, and your doctor will follow your healing.
As for the fat transfer to breasts, the doctor will harvest fat tissue from some other parts of the body, and that fat tissue will be refined before it is injected into your breasts. You can get a professional breast augmentation at Breast & Body Clinic where the fat transfer to breasts is one of the best options if you desire to have naturally bigger breasts.
Your breast can be naturally increased with your own fat tissue
After the procedure, you will need some time to recover. Usually, that is from one to two or three weeks, depending on the healing process of your body. Some possible side effects can be bruising, swelling and pain, but that should pass after a few days.
Final word
Correcting imperfections on your body has never been easier as the cosmetic industry has progressed very much in the past few years. If you are not satisfied with your look, do your research and consult with the professionals, to achieve your best breast look.