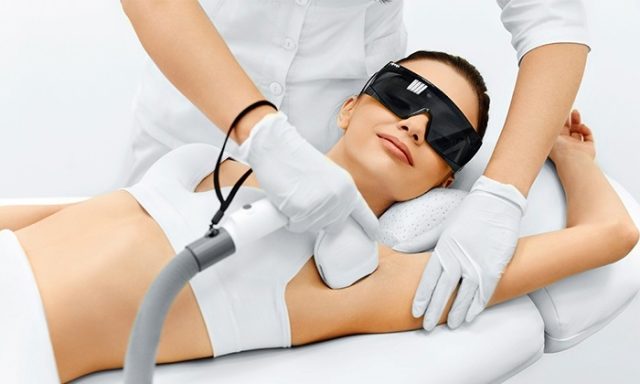 Are you tired off with your hairy body? Then you are already frustrating with the traditional methods of hair removal like shaving, plucking and waxing. All these are only temporary solutions that are painful and annoying hair removal treatments. these treatments are not always result in smooth, hairless skin. There are many after effects when you shave, pluck or wax like irritation from waxing, ingrown hairs, red bumps and rashes. But there is also a way to achieve hair removal that is more effective than others. laser hair removal has long-term result that will eliminate the need for constantly bringing out the razors and body wax.
Laser hair removal is hair removal treatment always targets unwanted body hair in safe and effective way. In this treatment lasers have used for removing the unwanted body hairs that does not cause any damage to skin, tissues  underneath and surrounding hair. It works by pulsing lasers on to the skin. Body hairs have destroyed from within  that are hair follicles that cause hair growth.
How can laser hair removal treat?
Laser hair removal can treat by variety of areas with unwanted body hair. unwanted body hair areas include 
Face, back, legs, underarms, arms and bikini area. In addition to this there is an another option of thinning the hair growth. This is popular among men who wanted their body hair to  thinner and not as thick and overgrown. To known more about this option you can book a consultation to sure about this treatment.
Does laser hair removal painful and safe?
Traditional methods of removing body hair are very painful and have some after effects. Its natural and common to know about the laser treatment and its after effects. During the process of laser hair removal patient may experience some pain. They may also note that the pain is between shaving and waxing. Those who need more than one treatment they may get less pain as compare to hair removal.
Laser hair removal may also result in some non serious side effects. That may include flushing and redness in the area where the laser get used. This may last for one or two days and fade after few days. Some times patient need to undergo more than one laser hair removal treatment to clear more hairy area of the body.
Laser hair removal is the excellent method to remove unwanted body hair that give long-term solution for this problem. The prices and length of time may vary as per the appointment and treatment area per session. Of you want to pursue your laser hair removal treatment than what you are waiting for? Hurry up! Book your appointment with consultant today.